AT A GLANCE
Plus
Excellent sonics
Dirac room correction
Minus
Limited setup and connectivity options
Dirac execution unintuitive
Very pricey
THE VERDICT
AudioControl's high-end processor is long on sound quality but comes up a little short on features.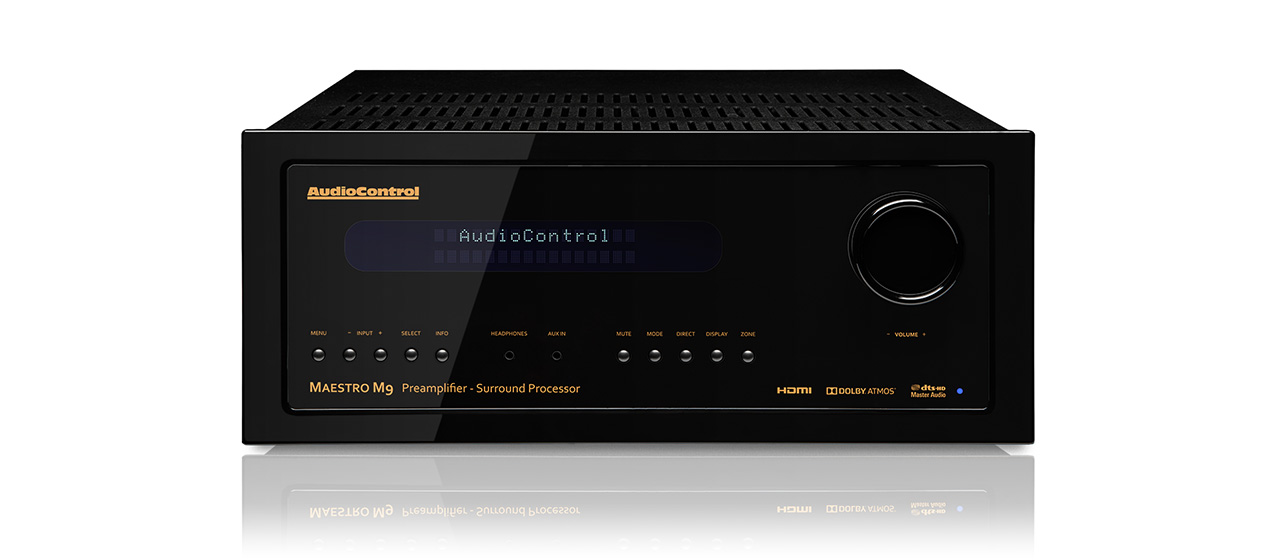 The dwindling audio processor market has been shrinking for quite some time now. More than a year ago, while I was wandering around CEDIA 2015, I stumbled on one enticing option that caught my eye from high-end audio purveyor AudioControl. There were a few reasons it piqued my interest. For one, AudioControl is based out of my backyard in the Pacific Northwest, so they're something akin to my hometown brand. Their AV processor also supported the Dolby Atmos and DTS:X immersive audio formats, another critical selling point. But perhaps the biggest draw was their inclusion of another hot name in audio circles: Dirac. Dirac's room correction scheme is well respected among audiophiles for its performance and adjustability, and I'd never had a chance to try it out. Finally, after some shop talk, lots of emails and a few months of waiting, the company was nice enough to send us a sample of their $8,900, Maestro M9 flagship.
Hello Gorgeous
This was my first experience with AudioControl's products. Of course, I was well aware of the brand from numerous exposures at trade shows, but because of their custom installer-based market I rarely see them out in the wild. AudioControl's AVRs and processors all have a signature look to them that oozes sophistication and style. The Maestro M9 features their high gloss, blacked-out glass front panel with an attractive green LED display that exudes a sexy high-end feel. If you're one of those folks who cares as much about how your gear looks sitting on the rack as how it sounds, this one should be high on your list. On the other hand, if glass doesn't suit your fancy or you'll be hiding the unit away, it's also available with a brushed black aluminum faceplate for a more conventional look. Build quality is solid, as evidenced by the unusual five year warranty.
The M9 delivers 11-channel processing, sufficient for a 7.1.4 Dolby Atmos system with seven ear-level speakers, a subwoofer, and four height channels with overhead speakers or Atmos "bounce" modules. DTS:X support has been trickling out to different processor and receiver brands over the last few months, with some of the more commercially available names like Denon and Yamaha already implementing it. But boutique brands have been slower to get the necessary software updates for their DSP solutions. AudioControl expects to have this feature enabled via a firmware update by end of the year.
Despite its hefty $8,900 price tag (a "suggested client price" in AudioControl's parlance), the Maestro M9 is admittedly a bit stripped down compared to my reference Marantz AV8802A ($3,999). This became noticeable during both installation and setup. To begin, the back panel, while massive, isn't quite as rich in connection options. There are no analog video inputs should you need those; your options for video are strictly the seven HDMI ports (all version 2.0a with HDCP 2.2). Perhaps more critical for some, there's no analog audio mulitchannel input, which may be an issue for some with high-performance disc players or transports that utilize multichannel analog outs. On the plus side, the M9 features two discrete stereo balanced audio inputs as opposed to the one connection we typically find.
On the output side the Maestro offers both single-ended RCAs (unbalanced) for all channels and XLR (balanced) outputs for only the seven main channels and one subwoofer. This necessitates RCA cables for the four height channel outputs. I was a little surprised that the M9 didn't offer fully balanced outputs for all channels at this price, similar to my Marantz processor and Yamaha's flagship CX-A5100 ($2,500). This omission did complicate my setup a bit, as I had balanced XLR runs already in place for all of my channels, and mixing the two (balanced and unbalanced) created level matching issues between the overhead channels and the ear-level channels (balanced connections provide quite a bit more gain). This is easily resolved by just running everything using the unbalanced connections, but at this price point and level of performance it is unfortunate that the outputs for all channels aren't offered in balanced form.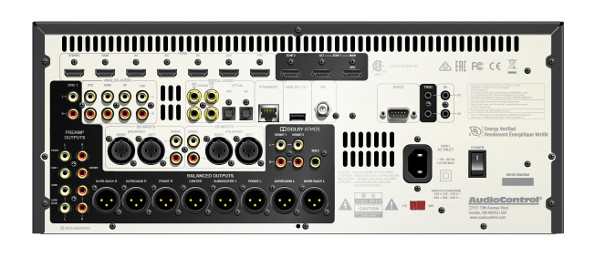 As noted, the M9 features seven HDMI 2.0a inputs, all full bandwidth, and three outputs, including two for the main zone and one for Zone 2. All inputs feature optional video processing for upconversion of any input resolution to 4K. The video processing can also be fully bypassed for an untouched video signal pass-through, which is how I ran it during my time with the processor. The back panel also boasts Ethernet connectivity for networked audio sources, RS-232 and IR connectivity for remote control and a USB input for both firmware updates and audio playback from USB media. AudioControl has drivers for Crestron, Savant, Control4, and RTI control systems that allow the M9 to be seamlessly integrated. 12-volt triggers are offered for both the main zone and second zone but they're limited to one each, so if you're driving multiple amplifiers (probably a necessity for immersive audio installs), make sure you can daisy chain triggers from device to device or you may need some splitters.
Setup
The initial setup of any surround processor can be a chore, but in this case, the M9's implementation and lack of adjustability some areas made it somewhat harder to dial in than most I've used. To be fair, I should probably remind everyone that this is intended to be a custom-installed product that your dealer will set up for you, which means you won't likely directly encounter the issues I did during the process.
Settings to define speaker layout and other parameters can be done from the well laid out onscreen display. (There's also an AudioControl iPad app that offers full setup and operational support.) The main setup screens are easy to follow and simple in design, but in some cases I found them a bit too simple, in that they didn't always provide the degree of control I'm used to and desire. A few little quirks were just mild annoyances that don't really hurt performance, such as the display of absolute values for the volume control instead of the more commonly used display of volume as relative to reference level. But it can be a detriment to have only a single global crossover setting for all channels, as is found here, instead of individual settings for the various channel pairs and the center—something that shouldn't be an issue with a product at this price point that promises this level of performance. Granted, it won't be relevant if you ultimately use Dirac for your setup method because the system will automatically select crossover points. But with a product like this you should really have the tried-and-true option of dialing in a processor manually. I've setup a lot of audio processors in my time and this was definitely one of the more limited in customization if you're going the manual route.
Dirac is considered a premier room-correction solution and the Maestro M9 is the only processor I'm aware of anywhere near even this lofty price point featuring both Dirac and immersive audio support. We've reviewed a few Dirac-enabled products here at Sound & Visionwith fantastic results, but this was my first time getting a crack at it and I was eager to give it a whirl.
Unlike most room-correction solutions that are managed from the processor's or AVR's setup menus, the Dirac software and process is all managed from your laptop. On AudioControl's website you'll find a link to download the applicable software (PC and Mac versions available) and with the M9 and your laptop connected to the same network the program recognizes the processor to start the procedure. AudioControl provides a small USB microphone and associated calibration file, but end users are allowed to use their own USB microphone if they have a one and a file.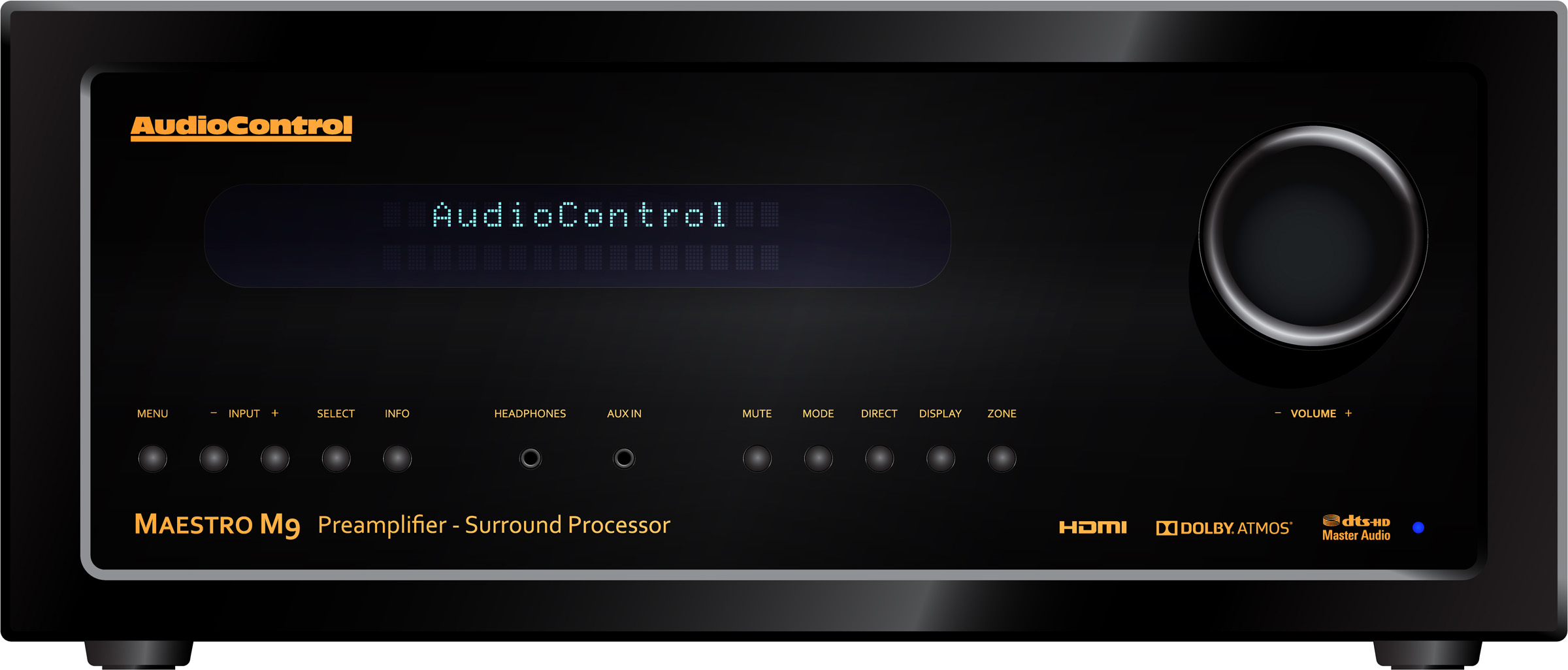 The Dirac software offers a pretty straightforward step-by-step procedure, but some of the initial steps were a bit more involved than I'm used to for room correction and they caused a bit of frustration early on. I had to fuss a good bit with level and gain controls to get my UMIK-1 calibrated mic to avoid clipping, and the system ran into those odd issues I mentioned while I was still trying to run a combination of XLR and unbalanced connections wherein one or another channel would fail to stay inside the intended range for the program. When it did encounter trouble, the software often failed to indicate exactly what kind: it would measure and tell me a channel was too low, but not which channel, or that clipping was happening even though there was no indication of this on the software's measurement display or of which channel was the culprit.
Eventually I got things running, though. The software walks you through the recommended measurement points based on your selected seating type and ultimately provides you with in-depth graphs that show the measured response for each speaker, a default target response that can be tailored to your liking, and an estimated post-calibration response with the target applied. At the time of my evaluation, the program measured my overhead speakers installed for Atmos and set distances, channel levels, and crossover for them, but didn't provide for any equalization of these channels. That functionality has since been added.
Once done with the calibration process the software allows you to save the results and calibration file. You can do this as many times as you want, allowing you to save multiple setups for different configurations and simply load them to the processor. This is flexibility that is sorely missing from some of the more prominent EQ solutions out there today like Audyssey. It allows you to experiment with different EQ curves, limits and crossovers without having to redo the entire process over and over again.
Test Drive

For my first go around I decided to just use Dirac's default correction curve and settings with no additional fine tuning. This is what I expect most custom installers would use as well as most customers. Dirac corrects both the measured frequency response and impulse response, so the recommended room correction is also in the time domain. It was a bit disconcerting to find that even after loading the Dirac results into the Maestro and selecting it as the EQ solution, the setup menus didn't populate completely with the settings that I assumed Dirac should have loaded. While distances for most of the speakers measured were entered, there was no indication of distance for the subwoofer, and all channel levels were set to zero. The default crossover was also untouched. Follow up conversations with AudioControl confirmed that, despite the lack of changes in the menus, Dirac does indeed apply crossovers on a per speaker basis and time alignment is done on the subwoofer channel (the M9 has dual subwoofer outputs but they are mirrored and not independent). While I'm glad that Dirac does deliver more flexibility than the manual setup route, I would have preferred to see all the levels and crossovers in the display in case I wanted to fine tune the results myself. Again, this was one more of the little things that nagged on me during the setup process that I don't typically run into with processors at or near this price point.
With the corrections done I dove into my initial listening sessions, using my reference Emotiva XPR and XPA amplifiers driving my Legacy Audio Focus SE mains, Marquis center, Phantom surrounds and Golden Ear Technology in-walls for my overhead Atmos channels. Four Seaton Sound Submersive subwoofers are used for LFE and all bass-managed signals.
I always start listening tests with material that I use constantly not only for testing and evaluation but also for demos and fine tuning. I've cultivated a large assortment of music and movie clips specifically for this and I've become intimately familiar with the content, allowing me to immediately perceive differences between playback hardware. One of the first things that struck me about the Maestro's sound was the distinct air and detail in music. I love the sound of my reference Marantz processor but there were some subtle improvements here when it came to nuance. Listening to a high resolution recording of Diana Krall's "Peel Me a Grape" was intoxicating with the Maestro. Fine details in the recording emerged, with a great sense of air around not only Krall's lush vocals but also around each instrument accompanying her. Imaging inside the soundstage was fantastic and each piece of the performance sounded a bit more tactile in the space than I was used to. But I also started noticing a slight resonance that shouldn't be there in some of the upper frequencies of Krall's vocals, which I confirmed by putting my ear up to the folded ribbon midrange of my mains. It would only flare up on occasion, but it was something I'd never heard before in my setup.
Another issue was slightly weaker bass output than I'm used to hearing. Bass articulation, especially in plucked bass strings, was fantastic, but the sound lacked my system's usual authority in the absolute bottom end. The track "Find My Way" from the latest album from Nine Inch Nails, Hesitation Marks, is one of my favorites for showing off the bass prowess of my system when it's dialed in perfectly. The tactile nature of this track delivers a visceral experience with subs as capable as the Seatons. But I wasn't getting that impact.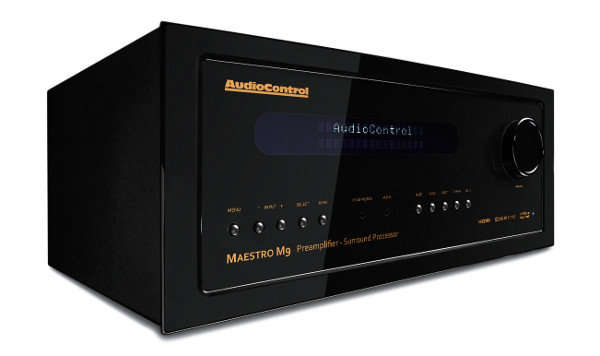 After hearing similar issues with multiple tracks I decided to go back into the Dirac setup and see if I could fine tune things a bit. Limiting the Dirac corrections to a much smaller frequency range below 500 Hz immediately took away that slight strain I was hearing from the mains with higher frequencies. This only confirmed for me the theory out there that suggests not trying to EQ the higher frequencies in a room, which are effected more from reflections than the room's modes and are better served by acoustic treatments. I also spent a lot of time adjusting the default curve for the subwoofer to deliver a bit more of a house curve with a rising slope as frequency decreases. That and fine-tuning the sub levels brought back most of what I was missing on the lower end. Now I was hearing the solid foundation in the more intense bass heavy tracks I enjoy but still had the mesmerizing detail in the fine notes and vocals. This was especially true listening to the cover of U2's "One" by Damien Rice. I was lucky enough to nab a CD copy of this and it delivers goosebumps with Rice's moody interpretation. The Maestro was earning a top spot with its music performance now.
Moving onto movies provided a bit more of the same. I've been enjoying immersive audio with overhead channels in my room for a while now, and once you've experienced it with the best content out there it would be impossible to go back. One of the standouts during my time with the M9 was the Blu-ray release of 10 Cloverfield Lane with its gripping Dolby Atmos soundtrack. This soundtrack is relentless in its building of tension and it unleashes some intense sonic assaults that will have you grabbing your armrest at the most unsuspecting moments. Imaging from the main soundstage to the overhead channels was seamless and truly provided an immersive bubble of sound. But even non-Atmos soundtracks were a treat with the available Dolby Surround upmixing that takes advantage of the height speakers. My daughter had us on a recent Harry Potter binge, and listening to Voldemort warn the students of Hogwarts about their impending doom was unsettling, to say the least. The sinister voice floated around and above me with no clear distinction as to where it was emanating from. The balance of sounds going from one channel to another was so perfect you would never know that different types or even brands of speakers were used, a testament to how the Maestro M9 integrated them.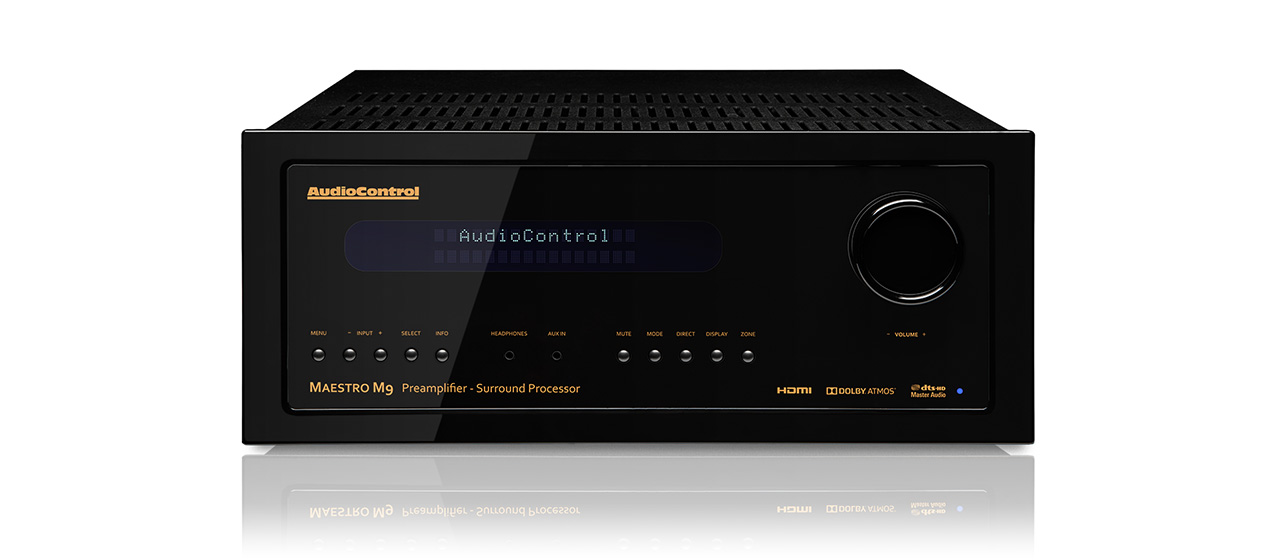 End of the Line
Ultimately I had very mixed feelings about the Maestro M9. This is a very capable audio processor that delivers a sonic experience representative of its price point. But I also feel that, at its price, we should be seeing a more refined setup routine and options, and the connectivity commensurate with this end of the market. It was hard to ignore that my reference processor is nearly half the cost but offers considerably more customization and connectivity. Still, there is no ignoring how good this processor sounds with Dirac dialed in properly, or how beautiful it looked sitting on my shelf. While its shortcomings and price won't allow me to give it a top recommendation, my ears are still reminiscing over its sweet sound.
Specs
Auto Setup/Room EQ: Dirac Live
Video Processing: 4K scaling/pass-through
Dimensions (W x H x D, Inches): 17 x 7 x 16.5
Weight (Pounds): 42
Video Inputs: HDMI 2.0a (6), MHL-enabled HDMI (1), component video (0), composite video (0)
Audio Inputs: Coaxial digital (4), optical digital (2), stereo analog (6), stereo balanced (2)
Additional: USB (1), Ethernet (1), Sirius (0), Wi-Fi antenna (0), IR remote (2), AM (1), FM (1)
Video Outputs: HDMI 2.0a (3), component video (0), composite video (0)
Audio Outputs: Stereo analog (1), 7.2-channel pre-out RCA (1), ¼-inch headphone (0), 7.1-channel pre-out XLR (1), Dolby Atmos Height channels RCA (2)
Additional: RS-232 (1), 12-volt trigger (2) Accessory: Rack mounts (optional)
Price: $8,900
Test Bench
Analog frequency response in Stereo Direct mode:
+0.07 dB at 10 Hz
+0.04 dB at 20 Hz
–0.03 dB at 20 kHz
–0.19 dB at 50 kHz
Analog frequency response with signal processing:
–0.11 dB at 10 Hz
–0.03 dB at 20 Hz
–0.00 dB at 20 kHz
–54.45 dB at 50 kHz
The above chart shows the frequency response of the left (aqua), center (green), LFE (purple), and left surround (red) channels at the preamp outputs of the Dolby Digital decoder. (Note: Center and left surround traces are concealed by the aqua left-channel trace.) The left channel measures +0.03 decibels at 20 hertz and +0.03 dB at 20 kilohertz. The center channel measures +0.02 dB at 20 Hz and +0.04 dB at 20 kHz, and the left surround channel measures +0.03 dB at 20 Hz and +0.04 dB at 20 kHz. The LFE channel, normalized to the level at 40 Hz, is +0.04 dB at 20 Hz, reaches the upper –3dB point at 117 Hz, and reaches the upper –6dB point at 121 Hz.
There was no multichannel input to measure. The analog THD+N was less than 0.021% at 1 kHz with a 100-millivolt input and the volume control set to 83. Crosstalk with a 100-mV input was –91.55 dB left to right and ––91.39 dB right to left. The signal-to-noise ratio with "A" weighting was –118.63 dBrA. —Mark J. Peterson

(soundandvision.com, https://goo.gl/8yq9fH)
Comments
comments