This is Amazon Echo Sub, a sign that Amazon is starting to get serious about the sound quality of its Echo devices. At a time when Google and Apple are talking up sound quality, Amazon needed to have a product that answered this need.
But Amazon does have a different approach; its solution is not to release a single Echo Max or similar that's an all-in-one device.
Instead, the £120/$130 Echo Sub works alongside two Echo devices (it is "optimised" for either second gen Echo or Echo Plus) in a stereo pair to form a 2.1 system and will be available on its own or with a bundle of two Echo devices if you don't have them already. You can use it with a single Echo if that's what you've got.
The Sub plus two Echo bundle is an interesting offering that brings into question the whole concept of the sub; it costs £240/$249 and at that price you seriously need to consider other options like the Google Home Max, Apple HomePod and Sonos One.
But if you're looking to add to one or two existing second-generation Echo devices, the Echo Sub is remarkable value for money and does represent a serious sound upgrade on what you have at the moment. When you look at product like the £699 Sonos Sub, the Echo Sub will always seem good value for money.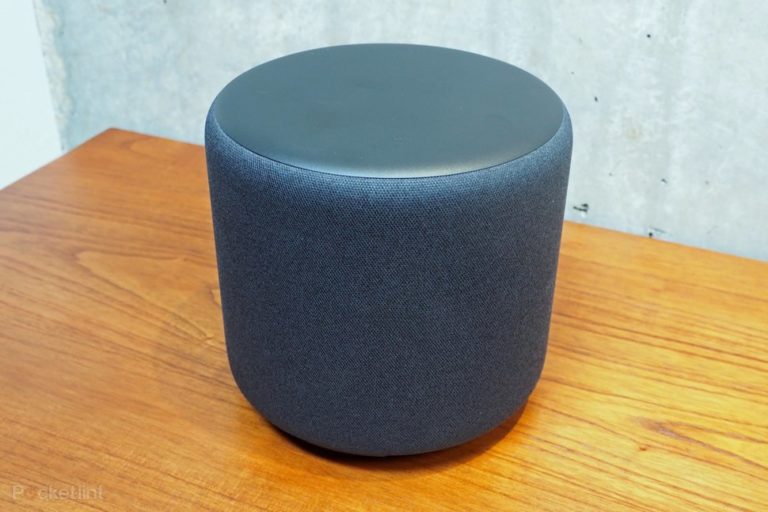 Design
202 x 210mm, 4.2kg
Available in charcoal, heather grey or sandstone
Four litre sealed chamber
The Echo Sub isn't the most appealing device to look at – it's not even instantly recognisable as an Echo we'd suggest. But we're being a little harsh; subwoofers generally aren't that attractive and are generally hidden away, anyway.
It follows the 2017-2018 design language of the Echo family with a fabric covering. As you'd probably expect it is available in charcoal, heather grey or sandstone like the Echo and Echo Plus.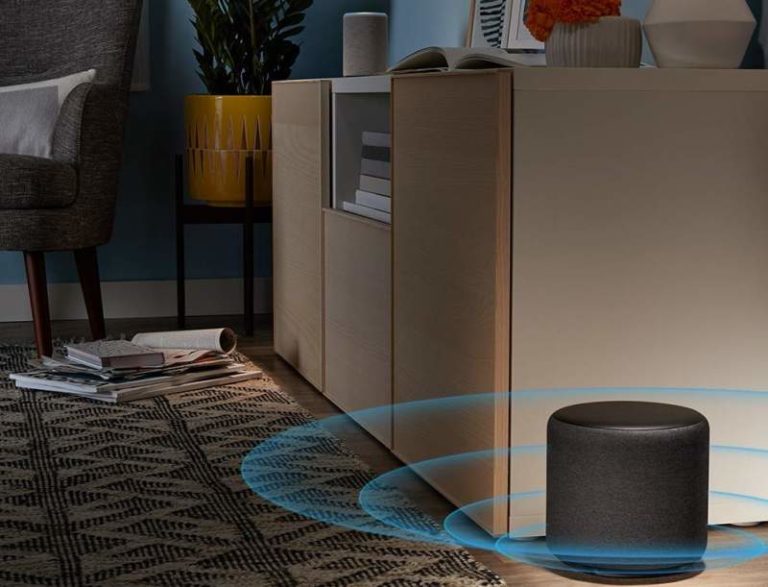 The top is rather plasticky though and while it's hardly likely people will be put off by this, it's clear that the finish quality isn't as good as the super-expensive Apple HomePod or, say, a Sonos device.
It has the weight you'd expect from a decent sub – 4.2kg and stands around 20cm off the ground. it isn't a compact device.
There are no microphones here – instead, Alexa works through your paired second-generation Echo or Echo Plus – but there is an action button on the rear should you need to invoke Alexa by hand. Otherwise, the only blemish on the exterior is for the power lead.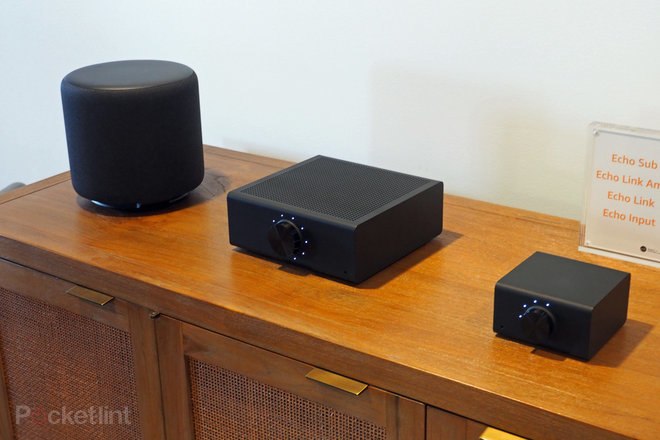 Audio quality
Six-inch woofer
100W Class D amplifier
There's a single six-inch woofer at work inside a sealed chamber within the Echo Sub compared to the four-inch sub inside the HomePod and dual 4.5-inch woofers inside the Google Home Max. The Echo Sub is powered by a 100W Class D amplifier.
The Echo Sub represents a serious upgrade to the sound of the Echo Plus, let alone the standard Echo. We heard it paired with two Echo Plus devices and it clearly represented a step-up. It's hard to judge if it was "room filling" because it was a vast demonstration area with several other setups. We're looking forward to seeing how it performs in a home environment but from our first listens we feel that it would have no problem creating an impression.
We're also very interested to try out the Echo Sub alongside the $200 Echo Link and $300 Echo Link Amp – both shown below. These devices are due out in the US at some point, but we've no idea as yet if they're coming to the UK.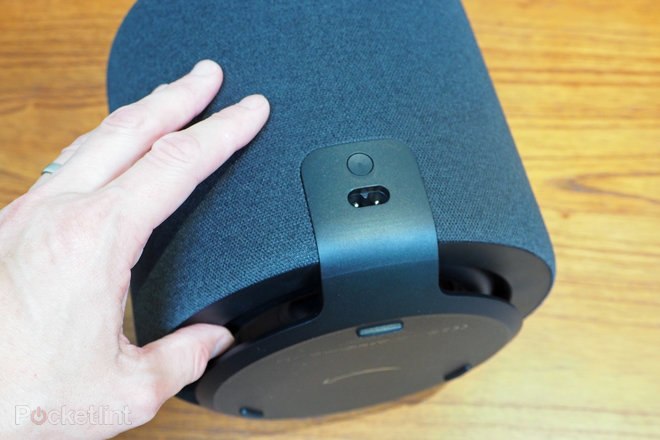 Verdict
The Echo Sub is a great addition if you have last year's second-generation Echo already (either one or two devices). But if you're looking to buy a new system entirely it's worth considering a one-box system, too.
It's a real disadvantage – though an understandable one – that you need to pair it with two Echo devices of the same type.
Overall though, the price of the Echo Sub means that it's hard to beat in terms of bang for buck.
(pocket-lint.com, https://goo.gl/iqXAac)
Comments
comments