Amazon has revealed its new Echo Spot as it makes a major refresh of its portfolio of Echo devices. Not only is there a new Echo and the enhanced Echo Plus, but the addition of the Echo Spot sees a diversification that takes Alexa into another room of the house.
While the Echo has found its natural place around the kitchen, bettered by the Echo Show that adds a useful display to the arrangement meaning you can do a whole lot more without whipping your phone out of your pocket, the prominence of those devices makes them a little overbearing for the bedroom.
Say hello to the Echo Spot.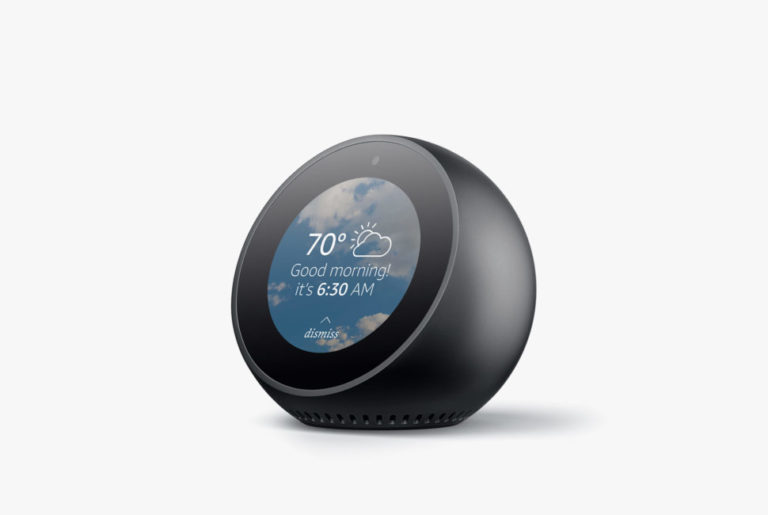 Amazon Echo Spot preview: Design
2.5-inch circular display
About the size of a softball
Designed to sit on your bedside table
The ball-shaped device is about the size of a softball and designed to sit on your bedside table or even in the kitchen or elsewhere. It features a colour touchscreen 2.5-inches in diameter, a camera for video calling and speaker in the base. There's Bluetooth and an audio line out for those wanting to hook-up to other devices. Like other Echo devices, the Spot has Alexa built-in and can be seen as a merging of the company's Echo Show and Echo Dot for this all-new form.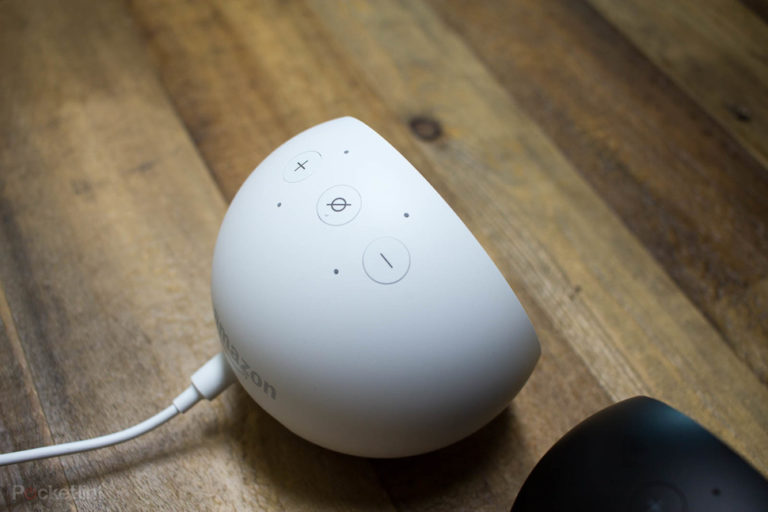 With a flattened bottom, which is where the speaker openings sit, the Echo Spot is very much like the 2009 Chumby. That device was ahead of its time, offering to pull in a load of information to keep you always informed. Like the Chumby, the Echo Spot wins on the cute factor, avoiding the harshness of the larger Echo devices, but giving you convenience of both Alexa and the visual display.
There's a lot we currently don't know about the Echo Spot because the version we saw on display was on a demo loop. However, from a design point of view we can certainly see the appeal: it can replace your dumb bedside clock, give you a whole range of connected features and avoid the need to immediately grab your phone when you wake up.
It's also a device that makes the functionality of the Dot more interesting. Echo Dot is great, but that's solely about voice control. Echo Spot is going to give you a little more to get excited about.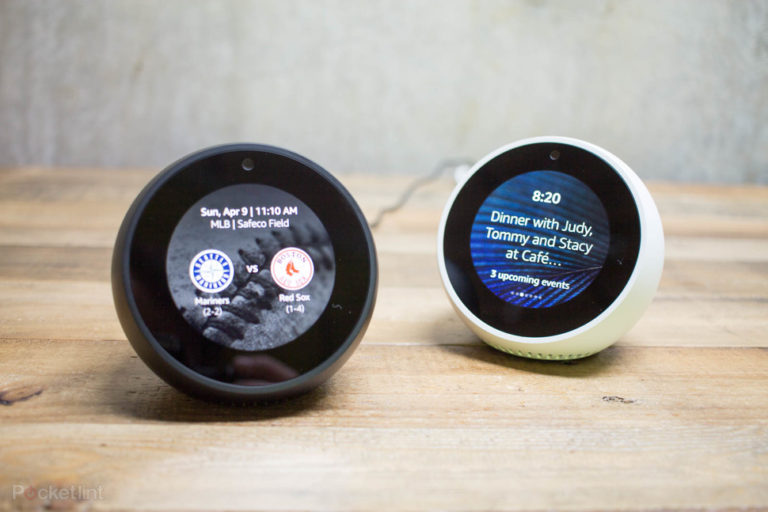 Amazon Echo Spot preview: Functions and features
12 clock faces
Video calling
Similar features to the Echo Show
Like the Echo Show, you'll be able to use Echo Dot as an intelligent alarm clock and it will come with 12 different clock faces including a rather snazzy vinyl record one.
It's not just about telling the time though. You'll be able to watch video clips, check the weather, sports results, dial into a security camera elsewhere in your house, such as your Ring doorbell or Arlo system, or control smart devices around your house. This is where Alexa really comes into its own, as you'll be able to talk to your Spot to turn on or off the lights, switch on your smart kettle or other tasks.
Thanks to that included camera, you'll also be able to make video calls to other Echo Spots or Shows, use it as an intercom to talk to other Echo devices in the home, or place calls to other Alexa app or Echo users. This is where the Echo Spot is raising some eyebrows – do you really want a device like that sitting on your bedside table, with the potential to have video calls when you're in bed? Maybe you do, maybe you don't – it really depends what you get up to in your bedroom.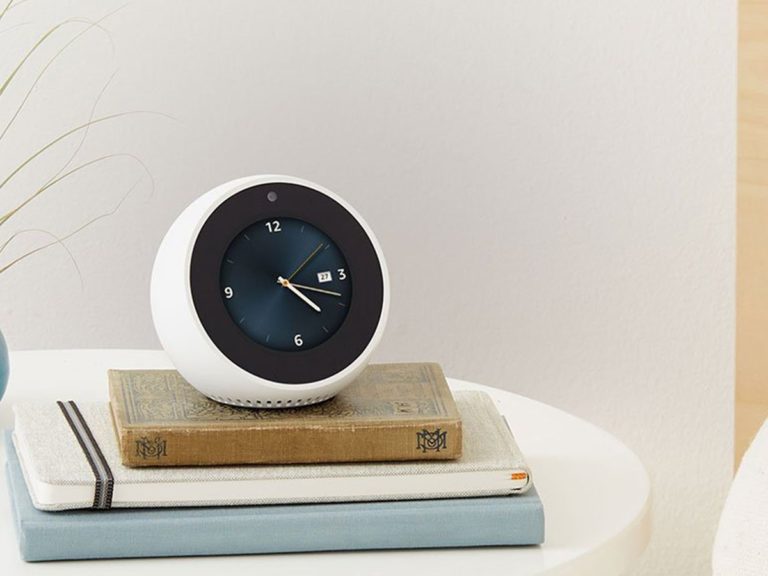 The circular screen is clearly an interesting one, as it will crop video to that format, something we've seen with Snap's Spectacles. For videos that means the software will automatically crop on what's happening in the centre of the footage. That might work for a video call, but we aren't sure if that's going to work for a short video clip grabbed from somewhere else, but like a lot of things Echo, we're not sure that matters.
Sadly, it doesn't look like you can rotate the screen 90 degrees to see it without moving your head off the pillow.
Amazon says the unit will be able to access all the same information as the larger non-screened versions of Echo, however the unit we got to play with was on a demo loop so we've yet to see how well it works beyond what Amazon has shown off in its product presentations.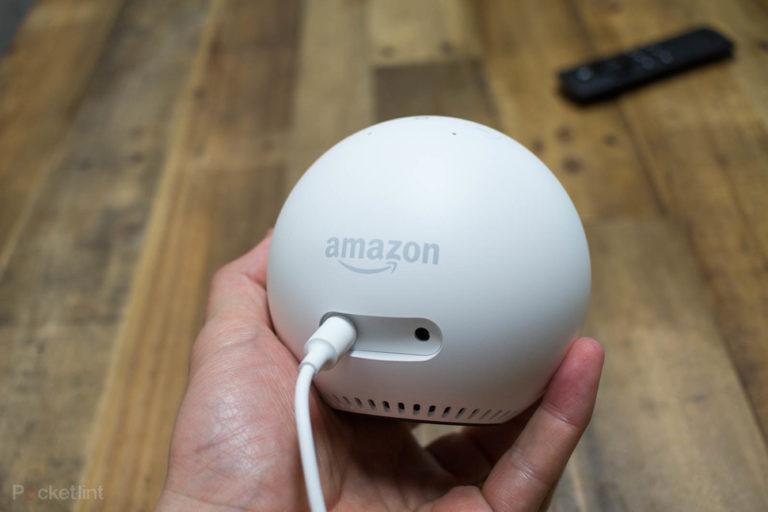 First Impressions
In the flesh the Echo Dot looks really cool, although you could easily misinterpret the Spot. A number of companies have tried and failed in this area over the years, however Amazon has the very successful Alexa ecosystem which could mean that the Echo Spot is one device that sticks.
Our time with the Spot was brief, mainly because the device we had was in a demo loop, so the jury is still out. We look forward to playing more with the Spot when it becomes available later in the year.
The Echo Spot will cost $129 in the US and come out in December and the UK in early 2018.
(pocket-lint.com, https://goo.gl/8dmdgu)
Comments
comments